Effortlessly Convert MBOX Files to EML Format with MBOX to EML Converter
Admin
| | 4
minutes read
| Modified on: 12-06-2019
As we all know that the majority of email clients use MBOX format to save email database like Apple Mail, Entourage, Netscape, Spicebird, Thunderbird, Opera Mail, PocoMail, Eudora, etc. On the other hand, many times still users need to convert MBOX to EML format. In the way to organize the data on another email client like Windows Live Mail, Windows Mail, etc. So they find for the solution to save MBOX in EML file format. In the following section, we have discussed a proper method and finest solution to convert MBOX files to EML format along with the reasons to convert MBOX to EML format.
Step-by-Step Guide to Convert MBOX Emails to EML File Format
There are two different techniques discussed below to convert MBOX files to EML format. Follow the steps in an orderly way.
Technique1: Manual Solution
Note: For applying this manual method, the configuration of Mozilla Thunderbird email application is necessary.
Firstly, open Mozilla Thunderbird app on your system.
For converting MBOX files, just go to the location where MBOX files are stored. Easily proceed to get it enlisted.
Now, choose the emails that you required to convert in .eml format.
Then, right click on the highlighted email >> select the option of "Select As" for saving all MBOX files to EML file format.
Drawbacks:
If you want to convert bulk MBOX files to EML format, then it will take your huge time to convert MBOX emails to EML format and there is also a high chance of data loss during the MBOX to EML conversion with this manual method.
Technique2. Professional Solution – MBOX to EML Converter
To overcome the restrictions faced by the above-given method, there is a software namely MBOX Converter. With MBOX Mailbox to EML Converter, you can export data of one file to another file format quickly. The convert MBOX files to EML process served by the MBOX to EML Converter is not just compatible for the users sound on the professional end but also makes sure that non-professional end of users can easily operate the software with an exact amount of simplicity and ease. For now, you are in the procedure of converting data, the MBOX files to EML conversion tool makes it assured to keep your data as same as its Metadata safe and intact during the process. No, any external or supported application is required to follow the data conversion steps. MBOX to EML Converter is supportable on all 64-bit and 32-bit Windows OS platforms. The software also comes up with the free Demo edition that allows the user to convert first 20 MBOX emails from each mailbox to EML format without any cost.
Now, follow the step-by-step process of the MBOX to EML Converter software to solve the query of how to convert MBOX to EML format:
Download the software on your Windows machine by clicking on the below-given button.

Step 1. Install and Launch the tool on your desktop, the first screen will be shown as –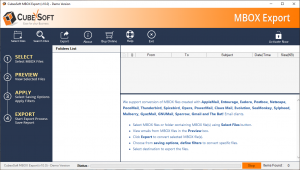 Step 2. Now, Hit on "Select Files" button and then choose an option between "Select File(s)" and "Select Folder" to upload MBOX files to convert into EML format.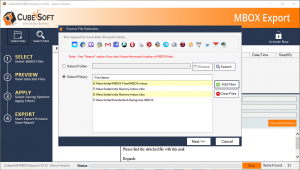 Step 3. Use the "Search" option, if you don't know the exact MBOX file location on your system. Just click on Search option and then give the location of your system drive or external drive by using the "Browse" button. After that, it will quickly search your MBOX files on the provided location and show the complete list of MBOX emails. Now, select the MBOX email which you want to add for conversion and then click on OK.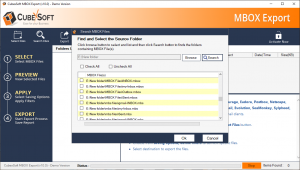 Step 4. Now, click on the Next button and preview the selected emails before conversion.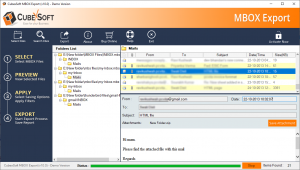 Step 5. Then, press on the Export button and choose EML as saving file format.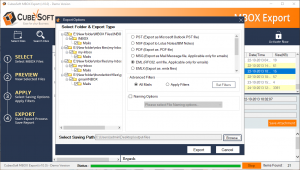 Step 6. After that enable the option of "Apply Filters" and Set Filters according to your need, if you want to convert specified data from MBOX to EML format.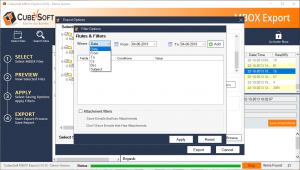 Step 7. Now, choose the File Naming option to save the resultant files in that manner as you want like Subject, Subject + Date(DD-MM-YYYY), From + Subject + Date(YYYY-MM-DD), etc. And also click on the "Browse" option to select the required destination location where you want to save the converted files.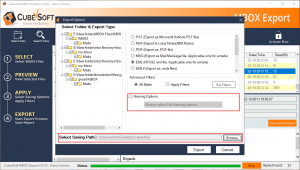 Step 8. Hit on "Export" button to start the MBOX to EML conversion and view the live progress throughout the procedure.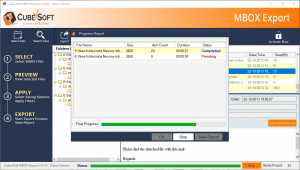 Step 9. Once the conversion completes, a success message will show i.e. Conversion is done. The, click on the "Ok" to complete the process.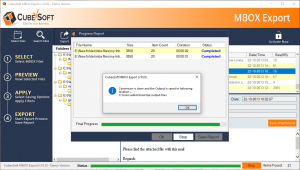 Reasons behind the Conversion of MBOX Files to EML
If tried researching then, there are numerous issues that reasons compelling the need for converting emails from MBOX to EML format.
For now, here is the list of causes that are forced by users because of the failure of the MBOX file in the situation of accessibility over the alternate platform:
You cannot share all your MBOX mailbox data for business purpose with the clients as then, they will need to use platforms suit the requirements of an MBOX file format, which is fairly unproductive and incompetent.
You are not permitted to use your .mbox or its data over any different platform until or unless you transfer its content into a simply accessible or flexible file format.
This lack of compatibility for using .mbox mailbox data over a simple to use platform makes it trouble for business clients to carry on easily with their official trips because, in that condition, the data file remains of no use.
Last Words
As much as online tool market is worried, a plentiful series of MBOX to EML conversion software is available. Though, the need to get a perfect one; developed with the user-friendly interface till does not lack a bit of technicality necessary.