How to Convert MBOX to PDF with Attachments – Step by Step Guidance
Admin
| | 5
minutes read
| Modified on: 10-06-2019
Today's digital era, mostly all users are using email applications to manage their all emails and another database. And, while using email client applications users face some issues related to keeping their data safe and secure. That is why a user searches for a solution to convert MBOX emails to PDF because PDF (Portable Document Format) is the safe and secure document file format. It keeps all the email data and other information safe and protects. By converting MBOX email files to Adobe document, you can open the files with a number of devices like Computer, Tablet, Android Mobile, iPhone, Laptop, MacBook, etc.
So, here we are providing a complete step by step guide to solve the query of how to convert MBOX to PDF. But, before you learn the process of converting MBOX mailbox to Adobe PDF format, first get some necessary information that will be helpful for you to convert MBOX emails to PDF file format and other email components.
Key Reasons to Convert MBOX File to PDF Format
Numerous reasons are available that force users to convert MBOX emails to PDF document format, here we are providing only a few common reasons for MBOX to PDF conversion.
Some users need to organize their mailboxes in PDF Adobe document format because PDF documents can be easily and effortlessly open without having any internet connectivity.
A number of professional users and companies need to archive their MBOX emails in Adobe PDF format to safe and secure the backup for future use by converting MBOX mailboxes to PDF document format.
A few forensic investigators and lawyers want to convert MBOX to PDF format for submitting and giving the evidence in the court because the court accepts electronic mail proof in the PDF document format.
Many users wish to save MBOX in PDF format because PDF files are well-compatible for taking a printout. After converting MBOX files to PDF format, users can simply print them to grab the objective documents.
It is a tricky task to open MBOX files without using the email clients but Adobe PDF files can be easily open and view without email platforms and services. Even PDF documents can be simply opened by multiple electronic devices such as Computer, Mobile Phone, Tablet, iPhone, Laptop, MacBook, iPad, etc.
How to Convert MBOX File to PDF with the Best MBOX to PDF Converter
MBOX Converter is the perfect utility for conversion from MBOX mailbox to PDF format, so it also is known as MBOX to PDF Converter. This utility allows the user to precisely convert batch MBOX emails as PDF format in one time so the user can save their valuable time as same as efforts. One of the best features of this tool is that it permits converting all types of MBOX files like .mbox, .mbx, .mbs and also without extension MBOX to PDF format with attachments. All MBOX supported email client applications are also well-compatible with the MBOX to PDF Converter. Therefore, a user can convert MBOX emails of various email platforms such as Mozilla Thunderbird, Mac Mail, Opera Mail, Eudora, Entourage, SeaMonkey, Entourage, The Bat!, PocoMail, etc. to PDF file format without showing any error message. MBOX to PDF Converter is an excellent solution for solving these type of queries like how to convert MBOX to PDF, how to convert MBOX emails to PDF, and how to convert MBOX file to PDF with attachments.
Now, follow step by step process of MBOX File to PDF Converter to convert MBOX emails to PDF format with attachments:
First of all, click on the Download button to download and install on the software on Windows machine –

Step 1. Launch MBOX to PDF Converter on your Windows screen and go to "Select Files" button.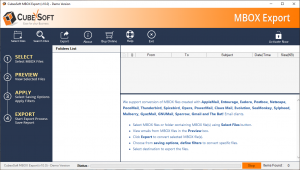 Step 2. Now, choose an option between "Select File(s)" and "Select Folder" to add MBOX files for conversion into PDF format and click on "Next" to continue.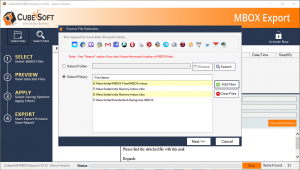 Step 3. If you do not remember the location of MBOX files, then use the "Search" option of the software to find the MBOX files from system drives or external hard drives. It will display the list of MBOX files in the selected location. Just check on the MBOX file which you want to load into the MBOX to PDF Tool for conversion and then click on Ok.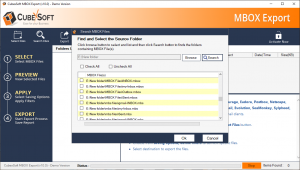 Step 4. Now, view the selected MBOX email in the software preview pane before clicking on the Export button. You can use the "Save Attachment" option, if you do not want to achieve a conversion of MBOX email and only need to save attachments.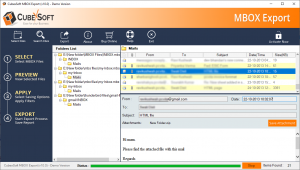 Step 5. Click on "Export" button and select PDF as saving file format to save MBOX email as PDF document format.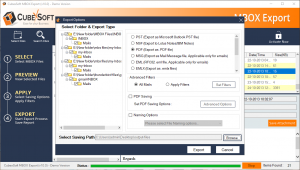 Step 6. Now, Set Filters by enabling the "Apply Filters" option. It will give two types of Filters:
Email Filters – This filter helps you to convert MBOX emails to any suitable format using –
Filters by Date – Using this filter you can set a specific date range by selecting "From" and "To" dates for performing certain date-range data conversion from MBOX to PDF.
Filters by Email – In this option, you will get different filters according to Email like From, To, Cc, Bcc, and Subject. And, in this set of filters, the software provides conditioning filters such as "Contains" and "Doesn't Contains".
Attachment Filters – This filter provides two options that are 1. Convert Email that has Attachments, and 2. Don't convert Email that has Attachments. So, you can choose any option between them as per your choice.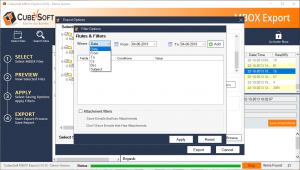 Step 7. After applying filters, check on the "PDF Saving" option and then select PDF saving options as per your wish by clicking on the Advanced Options.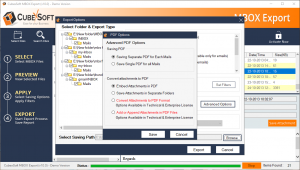 Step 8. Now, select the File Naming option to save the converted emails according to your wish. And, then hit on the "Browse" button to choose the destination path where you want to keep the resultant files.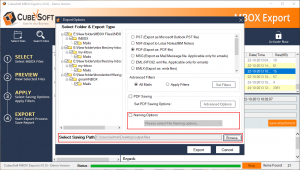 Step 9. Now, press on the "Export" button to start the MBOX to PDF conversion process. And also view the live progress with the green status bar.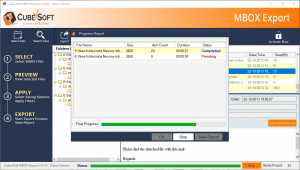 Step 10. Within a few seconds, a success message will show i.e. Conversion is done. Then, click on the Ok button to finish the process.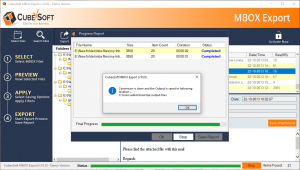 Final Words
SpecyTech MBOX to PDF Converter is the advanced and highly suggested utility to convert MBOX emails to the PDF file format. It also comes with a free trial version, which allows converting first 20 emails from each MBOX mailbox to PDF format. Using this, users can analyze it before paying money. MBOX to PDF Converter Free download is also helpful in testing and checking the working procedure before buy. So, easily convert MBOX file to PDF Adobe document without any worry.