Import MBOX to TGZ Mailbox with MBOX to Zimbra Converter
Admin
| | 4
minutes read
| Modified on: 19-06-2019
Are you searching for an easy solution to resolve the query of how to import MBOX to Zimbra? If yes, then you are at the right platform. Here we are providing the best, easy, and trust-worthy solution i.e. MBOX to Zimbra Converter. It is an automatic way to successfully convert MBOX to TGZ file format including all emails and attachments.
If we talk about the manual method to save MBOX emails in Zimbra, then it is not possible because there is no manual method or direct way available to import MBOX files to Zimbra TGZ mailbox. So, if you want to move your MBOX mailbox emails into TGZ file format, then go with an automated approach that is helpful for both technical users and novice users. But before we know how to convert MBOX to TGZ, let us first talk about MBOX files.
About MBOX Files
MBOX file is a mailbox file format which includes bunches of emails and data. And there are a number of email applications exist on the online market, which supports MBOX files to hold their email data. Some email client applications which supports MBOX files are the Mozilla Thunderbird, Opera Mail, SeaMonkey, The Bat!, Spicebird, Mac Mail, Eudora, Entourage, etc.
And alternatively, we have Zimbra Desktop that supports TGZ file format to import and export data. But the problem is how to import MBOX emails in TGZ format? So now, let's learn the whole process of MBOX to Zimbra with a step-by-step guide of MBOX to TGZ File Converter.
How to Convert MBOX to Zimbra? – Step-by-Step Process
First of all, download the MBOX Converter software and install it on your Windows system.

Step1. Open the software, and click on the "Select Files" option.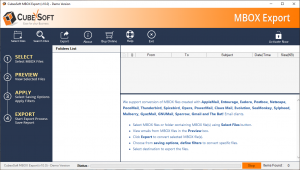 Step2. Now, choose an option between "Select Folder" and "Select File(s)" to upload MBOX emails for conversion. And then click "Next" to continue.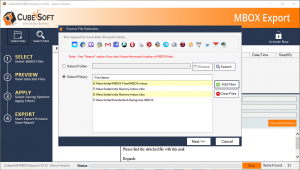 Step3. After clicking on the Next, preview your selected MBOX email before conversion, and then click on "Export".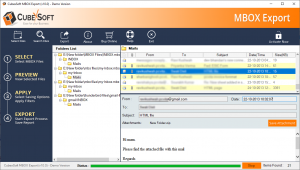 Step4. Select "Zimbra" as saving file format and also choose sub-options that are Apply Filters (Enable this option when you want to convert specified MBOX emails to TGZ file format), File Naming options (Enable this option and select any file naming option such as Subject + Date, From + Subject + Date, etc. to save the resultant files according to your choice), Destination Path (Click on the "Browse" and select destination location where you want to save the output files).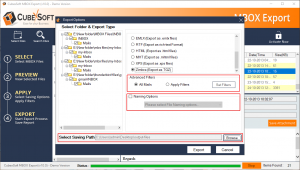 Step5. Now, press on the "Export" button to start the conversion from MBOX to Zimbra. You can view the live progress of converting MBOX emails in TGZ file format with File Name, File Size, Item Count, Duration, and Status.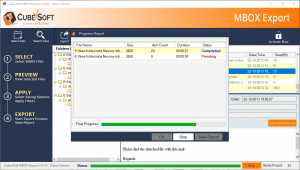 Step6. Once the process is finished, a message will instantly open displaying the Conversion is done. Then, hit on "Ok" to finish the process.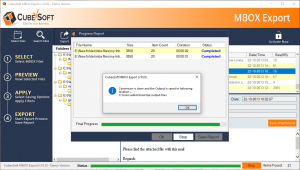 Advanced Features of MBOX to Zimbra Converter:
In the below section, we have mentioned the advance and helpful feature of MBOX to TGZ Mailbox Converter that makes the entire conversion process very easy:
Provide dual option – Select Files and Select Folder to import MBOX files for MBOX to Zimbra conversion.
Give a preview mode facility, which helps to view and check the email before converting into TGZ format.
Compatible for both single file and batch files conversion from MBOX to TGZ file format in the one-time process.
Support all types of MBOX files with extension (.mbox, .mbs & .mbs) and without extension (MBOX) files to move into Zimbra desktop.
Offer "Save Report" option to save the complete conversion report of MBOX to Zimbra in CSV file along with File Name, File Size, Total Items, Converted Items, Time Duration, and Status.
Suitable with all Windows (64-bit & 32-bit) OS platforms including Windows XP, Windows Vista, Windows 7, Windows 8, Windows 8.1, and also Windows 10.
Available Search option to find the MBOX files on the system drive. It is helpful when you don't know the exact location of MBOX files.
Capable to import specified data from MBOX mailbox to TGZ file format with Apply Filters
Well-suited for all MBOX based email applications including Apple Mail, Eudora, SeaMonkey, Mozilla Thunderbird, ClawsMail, PocoMail, The Bat!, etc.
Free Demo – Download MBOX to Zimbra Converter
For the user's evaluation, the software provides a free demo facility to test the complete working before buying. By using the Free Demo of MBOX to Zimbra software, you can convert MBOX to TGZ with the limitation of 20 emails per MBOX folder. If you want to import bulk MBOX files in Zimbra desktop, then you need to purchase the license edition of the tool.