Convert MBOX Emails to Lotus Notes with MBOX to NSF Converter
Admin
| | 3
minutes read
| Modified on: 17-06-2019
Looking for the direct approach to export and convert MBOX files to Lotus Notes? If yes, then here you are at the correct place. In this blog, we will introduce the MBOX Converter software that provides a direct solution saving MBOX mailbox emails in IBM Notes with attachments.
This application provides the permission to convert a number of MBOX files in NSF file format along with attachments. The tool is compatible with all MBOX files to import created from Mozilla Thunderbird, Apple Mail, Entourage, Opera Mail, Google Takeout and other MBOX file format supported email applications. It allows exporting MBOX to NSF file format to view mailbox data into Lotus Notes.
Introduction of MBOX and Lotus Notes
MBOX is the mailbox file format or preserving the emails and attachments. The MBOX file is the collection of a number of EML files. It is suitable with 25+ email applications such as Mozilla Thunderbird, Apple Mail, PocoMail, Google Takeout, Opera Mail, The Bat!, and many more.
Lotus Notes is the Windows-based app which is used by the enterprise level of users. It allows business collaboration features like emails, calendars, to do list, contacts, etc. IBM Notes supports NSF format to keeps all the email data.
MBOX to NSF Converter – An Ideal Solution
Convert MBOX to Lotus Notes NSF format directly with the help of MBOX to NSF converter. This tool is very easy to utilize and understand to all users. It comes with very simple and user-friendly interface so that it can be also used by non-technical users to perform the conversion of MBOX files to IBM Lotus Notes without any difficulty. If you have bulk MBOX files which you want to move into NSF format then just click on the Select Folder option and upload the folder having bulk MBOX files to upload into Lotus Notes. The best part of the MBOX to NSF software is that it is compatible with all MBOX based email programs to export MBOX emails to IBM Notes with no one trouble. For converting MBOX files in NSF file format you need to install and configure the Lotus Notes application when using this tool.
The MBOX to Lotus Notes Converter software provides a safe, direct and the most trust-worthy solution to users so that they can easily import their mailbox data without losing any type of detail. The MBOX to NSF Converter is well-capable to work on all the editions of Windows Operating Systems such as Windows Vista, 7, 8, 8.1, and 10. It offers complete conversion in just a few easy steps.
How to Convert MBOX to Lotus Notes – Complete Guide
First, download MBOX to NSF Tool and launch it into your Windows machine. After that follow the below-described steps to save MBOX emails in Lotus Notes NSF format:

Step 1. Go to the "Select Files", and choose an option between "Select File(s)" and "Select Folder" to upload MBOX files for achieving the conversion.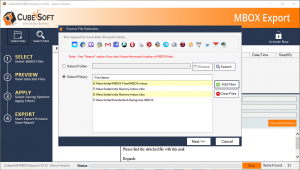 Step 2. Now, press on the "Next" and view the chosen MBOX email before initiating the actual conversion step.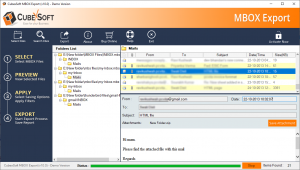 Step 3. After that go to the "Export" button and choose NSF as saving file format and also choose sub-options like Apply Filters for converting specified MBOX emails to NSF format, Split NSF File in MB or GB as per your necessity, and destination path for saving the resultant files by clicking on "Browse" button.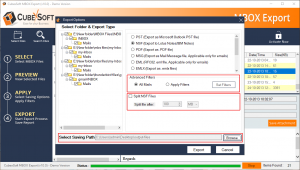 Step 4. Now, click "Export" and start the process of MBOX to NSF. You can view with live conversion status with the green status bar.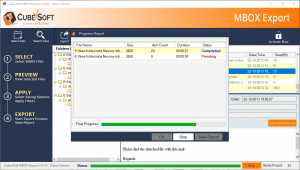 Step 5. Once the conversion completes, a new window will open and showing the success message like Conversion is done. Then, click "Ok" to achieve the process.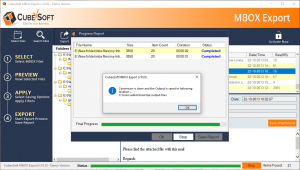 Wrapping it up
In the above write up, we described the whole procedure to convert, import, and save MBOX to Lotus Notes using MBOX to NSF Converter program. The tool permits to export and move multiple MBOX files to IBM Lotus Notes or Domino Server without changing any type of information. The MBOX Converter for Lotus Notes also offers the free demo facility, which allows you to import a few MBOX emails in IBM Notes.  If you need to achieve the batch conversion from MBOX to NSF, then you must go with the license key of the tool.
Related Blog Post: