How to Export Outlook Data File to PDF Format with Advanced Procedure
Admin
| | 4
minutes read
| Last updated on June 24th, 2019,
Summary: Looking for a solution on how to convert Outlook data file to PDF with attachments, then follow the below blog post that describes the entire method in a simple process.
User Query

"I instantly want to convert my Outlook PST emails to PDF for a presentation project. I know manually it's possible to convert Outlook PST to PDF by installing Outlook and Adobe Acrobat on the same system. But I have different issues overall, my Outlook 2019 isn't working properly and moreover, I don't have much time spared as I require these PDF files as soon as possible. Just to be on the safe side I have saved a backup of all my emails but I don't know what to do now. If anyone has the solution to my issue then please advise me the same."

Solution

I recently read the above query at a forum site. There are many other users also faced the same problem, so don't to worry, in the following blog section, you will find an easy method for accomplishing Outlook PST to PDF migration, both manually and automated approaches. You can choose the one as per their conversion requirements. Let's first know about PDF?
What is Adobe PDF File?
PDF (Portable Document Format) is the common file format for storing data in document format. It's an acronym for portable document format and can be viewed in multiple operating systems in exactly the same layout in which it created. Acrobat Reader is the only application which is needed to open and view PDF files, and nothing else (not even that software in which it was actually created). A PDF file can contain documents, legal evidence, presentation, video files, emails and etc.
Benefits of Migrating PST to PDF File
There are several advantages related to working with MS Outlook. Moreover, moving its emails to Adobe PDF format. Some mentioned are below-
PDF exhibits documents in electronic format which is independent of hardware, software, and OS.
PDF is a free application as compared to MS Outlook
Users can secure their PDF files by protecting them with user and owner passwords
PDF files can be compressed so as to be easily shared online
PDF is a best and multipurpose document formats out of all rest is the selected one by maximum users when scheduling to save messages.
A number of specialized users and organizations want to migrate their PST files to PDF document format to safe and secure the backup for future use by migrating Outlook mailboxes to PDF format.
Some forensics investigators and lawyers need to export PST to PDF format for submitting and giving the evidence in the court because the court accepts electronic mail proof in the PDF documents.
How to Move Outlook PST Files to PDF with the Best PST Migration Tool
PST Migration Tool is a best and perfect utility for migration from Outlook PST mails to PDF format, so it is also known as PST to PDF Migration. This application enables the user to precisely print batch PST emails as PDF format in one time so the user can save their valuable time and efforts. One of the best features of this software is that it allows selected files conversion of PST to PDF format without any data loss.  This application is a simple solution, so any non-technical user can also easily handle it and get all Outlook emails to PDF. It offers two options for saving attachments. The first is saving Outlook email to PDF with embedded attachments, and the second is saving Outlook PST files to PDF with attachments in a separate folder. So, select either option according to your requirements. The migrator tool supports all Outlook editions like- 2019, 2016, 2013, 2010, and etc. It supports very simple migration approaches to migrate multiple data from PST to PDF format with attachments.
Moreover, any users who want to take a trial can use its free demo facility that will help them understand the complete solution of migration Outlook emails to PDF format; the demo permits the migration of 20 emails from PST to PDF format without any cost. So, download the free Outlook PST Migration Tool demo and clear all your doubts about how to export Outlook data file to PDF format.
Now, follow the step-by-step working process of Outlook PST to PDF Migration to migrate Outlook emails to PDF document format with attachments.
First of all, click on the download button and install the software on your Windows operating system.

Step 1. After properly installing the software, launch the PST Migrator Tool.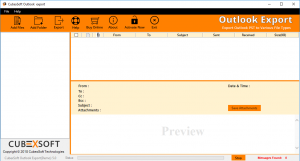 Step 2. Now, select an option between "Add Files or Add Folder" to load PST files for migration into PDF format.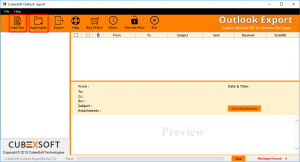 Step 3. Then, view the loaded PST files in the software preview pane before clicking on the Export option. You can also use the "Save Attachment" facility if you want to archive a migration of PST data and only want to save attachments.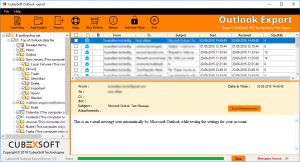 Step 4. After that, press the Export option and select PDF as saving file format. And also select other options like- Date-Filters and File Naming options.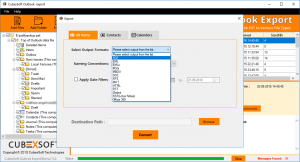 Step 5. Now, hit on the "Browse" button to save resultant PDF files and click on "Convert" button.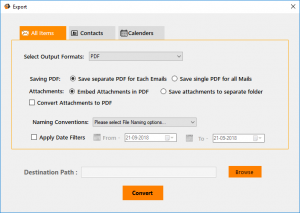 Step 6. After this, the software starts the migration process. After completing the whole migration process, a screen will show with "Conversion Done Successfully" message.
Conclusion
SpecyTech PST Migration Tool is the advanced and amazing utility to migrate Outlook PST files to PDF file format with attachments. So, using this third-party application for availing the convenience of your email data over the performs without having Outlook installation done over it is the safest option. It does Outlook PST to PDF migration with just a few clicks only.
Read More Related Posts :